Wow! Almost 200,000 pageviews guys!! I'm pretty stoked

So in the grand tradition of... last time... I'm offering another commission sale! For the next 24 hrs if you want in on a $15 buck portrait commission* just note me, I'm not going to be doing these for a while after this round so make sure you think about it :3
Wow... 200,000. I have a screencap from about this time last year and it was only at like 30,000. What the hell happened? I'm not complaining but I don't remember what pushed it up that high, probably the fancomics *shame* but whatever, thanks to all for your wonderful support! The first person who catches and notes me a screencap of the 200,000th view gets a free portrait!
In other important news, I noticed a disturbing trend among our cake mix boxes. I come from a family that buys cake mix obsessively when it goes on sale for a buck at Safeway, so we have a few different brands stored in the garage. Take a look.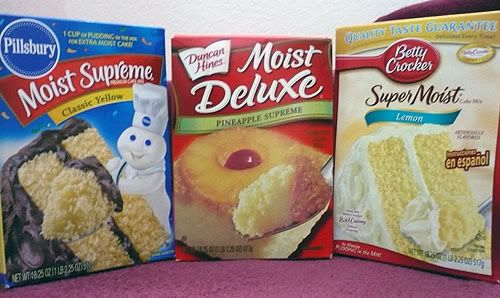 Now, stop me if I'm wrong but doesn't that seem like an unhealthy obsession with moistness? How moist do you want your cake, really? Each seems more moist than the last! So in the interest of a moist arms race, here are my suggestions for cake mix products: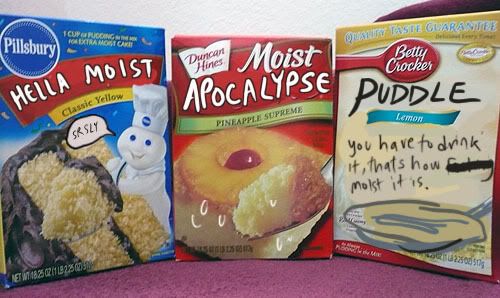 No this post doesn't have a point.
Thanks again for all your support, everyone :3
*edit*
Commish sale is closed! Thanks so much to everyone who got one, I really appreciate it! All commissions are closed for the time being, excluding sketches :3 Also! It looks like the comic got on the front page or something? I know I shouldn't feel like its a big deal what with it being THE INTERNET but thank you again to everyone who looks at my stuff, it means a lot to me <3 <3 <3
*
[1]
[2]
[3]
, normally $20
My other pages:



Dance Luca, dance!

Commission info!

Livejournal!

Comic/ Sketchjournal!